Established in 1978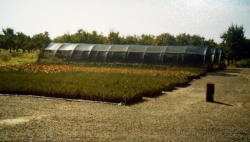 Nearly forty years ago, Doug Zielinski, a recent Oregon State graduate and fourth generation farmer, decided to pursue his dream of having a nursery. In 1978 he constructed a single greenhouse on the family farm located in Salem, and Alpha Nursery was born. Growing up, Doug was always last in line thanks to the Z in his last name. He wanted his nursery to be at the front, so he chose Alpha, derived from the Greek word meaning "beginning."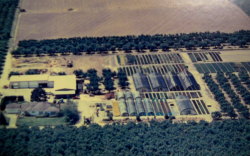 The nursery initially provided high-quality ornamentals to several local landscape outfits, many of which are still customers today. Each year, more of the aging orchards on the farm were removed until Alpha became the 150 acre nursery it is today. The primary customers served are retail garden centers, landscapers and re-wholesalers throughout the US.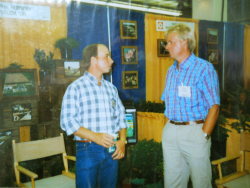 Trade shows assisted in sales as the nursery continued to grow. In 1990, Alpha Nursery became incorporated and began a more aggressive marketing campaign by hiring its first outside sales representative. Today, there are six representatives covering various parts of the United States.
Serving such a vast market area and unique customers has led Alpha Nursery to its diverse product line. Several hundred varieties of plant material are grown in a wide range of container sizes. Retail-ready conifers, broadleaves, shade trees, ornamental grasses, perennials, roses, topiaries, and specialty grafted items all play a part in Alpha Nursery's success.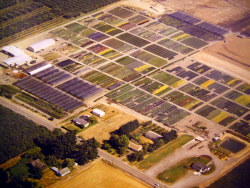 Also contributing to Alpha Nursery's success is its history of being a more innovative nursery. In the early 1990's, one of the first retractable-roof greenhouses in Oregon was erected at Alpha. Following this installation, a satellite radio-controlled irrigation system was put into place, retrofitting the traditional time-clock system. Levels of production and efficiency were increased when the company began applying new potting systems such as drill machines and in-line machines. In the later 1990's, a pot 'n pot yard was developed. Again, one of the earliest in Oregon. Developing new ways to deliver stronger plants has kept Alpha Nursery competitive over the past few decades.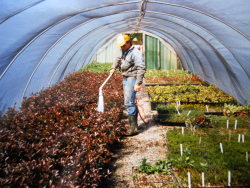 The most critical element to the growth of Alpha's business is its commitment to its employees and family. Many employees, including general manager RJ Tancredi, have been there since the beginning. Every one of the employees are hired for full-time work all year around and trained for a wide range of jobs. With plenty of work and great benefits, employee turnover is relatively non-existent.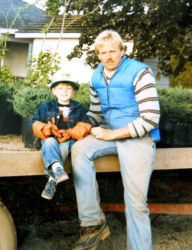 Family also plays an important role at Alpha Nursery, as it has for generations on the Zielinski farm. Co-owner Jamie Zielinski, Doug's wife of nearly 30 years, has been instrumental in the nursery's success. Today, they are glad to have two sons, Josh and Scott, involved in the farm and nursery side of the business.
The past 40 years have been good to Alpha Nursery and the future looks just as bright. Personalized service, product diversity, innovation and commitment to customers, employees and family will continue to drive us toward our goal of providing the highest quality plants to the market in the coming years.